You might wonder, how will I ever get rid of these stretch marks and cellulite? You might think it's impossible and that you now have to live with your body the way it is. But there is a way! To get rid of cellulite, you have to understand what cellulite is.
How do you Get rid of cellulite?
What is Cellulite?
Before we get into the details of getting rid of cellulite, it might help to know what it is. Cellulite is simply fat. The cottage cheese appearance occurs when excess fat bulges through the connective tissue.
Cellulite usually appears on the butt and thighs because your skin is thinner, and the fat bulges are more pronounced. Some women often get cellulite on the stomach and hips as well.
What causes cellulite?
There are many causes of cellulite and we going to list five causes and how you can help minimize it.
Genetics: There are specific genes that have characteristics associated with cellulite.
Hormones: Many believe that thyroids, estrogen, noradrenaline, and prolactin are potential causes.
Lifestyle: People who lack exercise have a greater chance of developing cellulite. Also, smokers tend to be in a high-risk category.
Diet: Carbohydrates, fat, and salt tend to increase the amount of cellulite.
Clothing: Wearing extremely tight pants can limit blood flow and contribute to cellulite development.
Most cellulite products on the market today are not effective at all. Most of them cover up the symptoms. To tackle the cellulite issue, you need to address the root causes. The root causes are not what most people think.
What is the root essence of cellulite? 
Cellulite is simply like any other fat in your body. The myths out there lead us to believe cellulite is a type of fat or excess water cell.
The cottage cheese appearance is due to bulging fat. That fat causes lumps and dimples in the skin. It is most common on women's hips, thighs, and buttocks.  
 How often do you see cellulite in men? 
Not that often, because men have thicker skin and tend to store body fat in their bellies rather than their lower bodies. Women on contraception or who are pregnant tend to increase their chances of cellulite.
Why is cellulite more common now?  
The biggest influences today are the environmental factors that lead to a disparity in hormones that cause cellulite. The hormones break down collagen and enhance fat storage in the thighs and buttocks.
Making dietary changes and following a specific workout plan can help put your body in a cellulite-fighting mode. No single cause is attributed to the formation of cellulite, but making some slight changes in your life can reduce those effects.
How to Get rid of Cellulite: Exercise vs. creams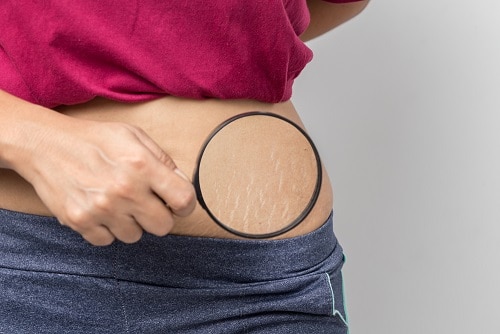 Many products and exercise videos claim to be the number one cure for cellulite, but the real secret is that exercise, pure and simple, is one of the best and most effective ways to combat cellulite.
Creams : They are widely touted as miracle cures but can be costly and have speculative results.  
Exercise: On the other hand, it has been known to reduce cellulite. Exercise is not only one of the best ways to get rid of cellulite; it comes with additional benefits, like weight loss, improved health, and increased energy.  
Exercise is a good alternative and an easy way to tackle cellulite. Before you spend hours a day on the stair-master or treadmill, continue to learn more about how to target your exercises.
The best exercises to get rid of cellulite
Of any exercise, resistance training is the most effective and efficient way to get rid of cellulite. Resistance training allows you to target areas where you have cellulite; like your butt and thighs, to reduce cellulite efficiently.  
If you have cellulite on your thighs, you will want to do squats, lunges, and hamstring exercises to target this area and get the best results.  
For your buttocks, you will want to do squats, step-ups, and hip extensions. Rather than focusing on one movement, a complete regimen incorporating multiple activities for your problem areas will bring you the best results.