Next week we'll feature a review of several best baby products of 2022 but due to its popularity, we thought we'd dedicate an entire post to reviewing the Graco Pack and Play specially the Pack 'n Play with the newborn napper and changing station.
After my thorough research, we ended up purchasing this one and I am generally happy with it. One thing I love is the idea behind the design – it is designed to grow with your child from newborn (hence the newborn napper) to infant to toddler – one product for three life stages. Yes, please! Let's talk more about the features 
Graco Pack and Play Review
If you are asking yourself if this is like a portable nursery, the answer is yes. It is like a portable nursery. Which can be great. Great if you have a two-story house and need a place for a downstairs nap or diaper change.
Not so great if you have a small space because it is big and generally there is no space for duplicate functions. We originally thought we would use this as our bassinet which in theory it seemed perfect for.
However, for us it wasn't – mostly because of its size. The size isn't a knock against the product itself because most standard  Graco pack and play are the same size. It was more an issue of our space.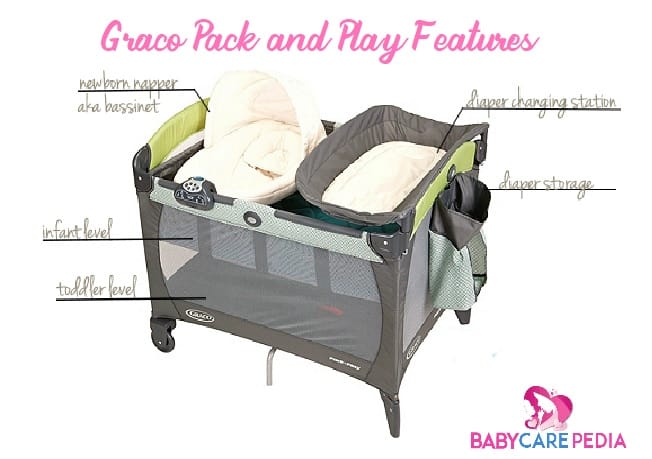 The newborn napper attachment is very cozy, functional and 100% machine washable. We've used this for several trips week-long trips as well as in our living room when Eloise was a newborn. She always slept very well in the newborn napper.
It has a sort of give to it, making it almost tempurpedic in that she was very comfy in it. The napper is almost flat and has a head support insert which is great for the newborn stage.
Graco says you can use the napper/bassinet for up to 25 pounds but Eloise outgrew it by about four months. She is in the 50th percentile in both height and weight and is only about 15 pounds.
It was mostly a length issue and she didn't fit snugly like she did when she was smaller. Once your little one has outgrown the napper you can just leave it off the top and the Graco Pack and Play and other attachments are still fully functional.
Graco Pack and Play Review
The napper also vibrating option which comes in super handy and is a nice added feature. It also plays soft music and has a small built-in night light. These are new features this year and a nice addition.
With these new features, you may be able to use this instead of the traditional infant seat but you definitely lose out on the portability factor.
The diaper changing station is very handy although, we have never used it at our house. Remember, we live in a 1400-square-foot, one-level condo so it was always just as easy for me to pop in the nursery.
However, the diaper changing station comes in very handy when we are traveling and would otherwise have nowhere else to change the diaper. I would imagine this would be equally as handy for someone with a two-story house.
Graco Pack and Play Review
Some others complain that the changing station is not very sturdy and isn't completely flat so your little one can sort of roll or slide down a bit.
I would definitely agree. Is it a huge deal or does it make it unusable or unsafe? Absolutely not. But you should know about it as it seems to be just the way the product is designed.
We've moved on to the infant stage with the Graco Pack and Play and it functions great. The next stages look something like this…
In the infant stage your little one isn't quite laying on the bottom mattress but a mid-level setting which still makes it easy to access them quickly. I have to admit I was a little nervous the first time Eloise slept like this.
The mattress is supported by metal rods but I was still worried it was going to fall or I didn't have something set correctly. I have had no problems with this though and Eloise seems to sleep well. You can still have the diaper changing station on while in this position although I removed it.
To calm my fears, I have also had her sleep in the "toddler" position which is the mattress all the way at the bottom of the play yard. She slept equally as well in each position. It is more difficult to set her down if she is asleep in the toddler position.
I would imagine it feels like something of a free fall for her… but she is a good sleeper and quickly goes back to sleep. I meant ion it because I realize this may not be true for all babies.
Graco Pack and Play Review
Again, you can still have the diaper changing station on and when Eloise slept like this I actually left it on. It was handy in the middle of the night although, I ended up just changing on a changing pad in my bed… is that gross?!?
Let's talk set up. I don't mean to toot my hubby's horn but he is a smart guy that puts broken bones back together for a living. I can honestly say that no baby product frustrated him more to put together than this Graco Pack and Play!
Not to mention, it does not fit through our door frames so while it seemed like a good idea to put it together in the living room and store it in the nursery, it wasn't. Eek. But it does get easier each time.
That being said though – if you are traveling with it and all its pieces (newborn napper, diaper changing station, etc) it does not all fold up that compactly.
The play yard and mattress itself do, but the other attachments are separate pieces and require additional cargo space. However, the play yard frame and mattress themselves fold and set up easily so as your little one grows it gets even easier.
Bottom line…
Graco Pack and Play – Who this product is great for:
• those with a two-story or big house that need an additional place for naps and diaper changes
• if you had a one-bedroom apartment and didn't have a dedicated nursery this would be a great alternative with all the pieces
• if you'll be traveling a lot with a newborn baby this is perfect for you
• if one or more of the above is true and you don't have a bassinet (saves you from having to buy another product)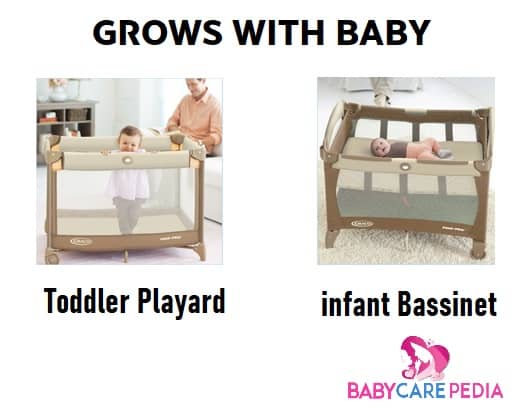 Who this product is not so great for:
• an urban environment with little space but a dedicated nursery/changing table, etc
• if you don't travel very often or don't plan too with a young baby – if you plan to travel more when your baby is older you could buy a simpler pack 'n play like this ONE, that functions for your needs at a fraction of the price.
• if you already have a bassinet or are going with a different NEWBORN SLEEPING OPTION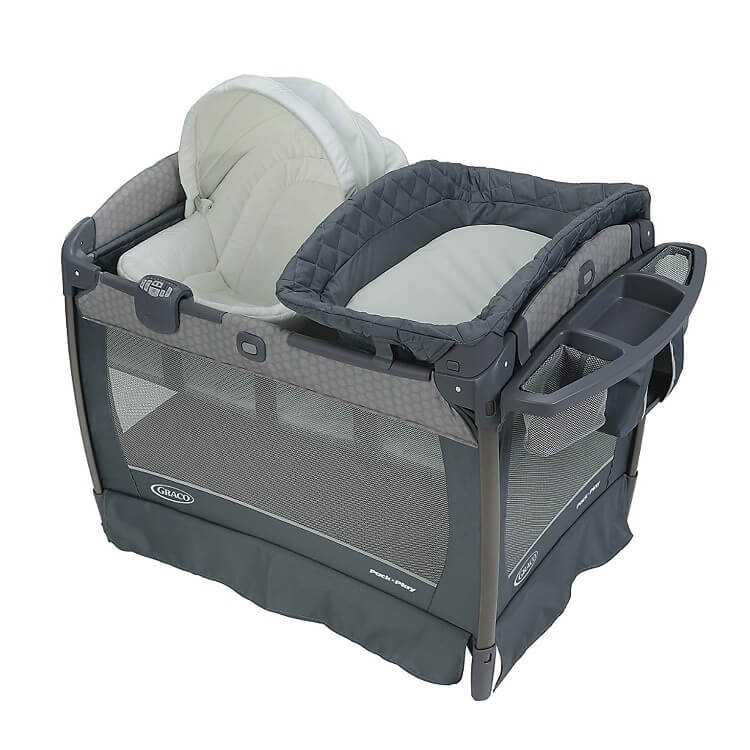 I have actually had quite a few people ask me if they need a pack ' n-play and I really think it depends on the above criteria and ultimately your needs. For us, for now, the answer is no.
If you do end up deciding you need a pack 'n-play Graco is the million-pound gorilla in this market. Though not without their imperfections, generally speaking, their Graco Pack and Play are well made, safe, and in my mind a-can't-go-wrong registry addition!