What better way to wind down 2020 than with our Best Baby Registry Guide?! We took our BEST BABY PRODUCTS OF 2022 the ultimate Baby Registry Guide. Of course, there are other products mixed in but this registry guide encompasses many of our favorite products as well as new moms favorite products.
This baby registry isn't necessarily tailored to a specific lifestyle but instead highlights some of the best of the best for all lifestyles. And remember, your best baby registry may come from multiple baby registry guides so this one is just another tool in your tool kit!
ULTIMATE BABY REGISTRY GUIDE 2020
CAR SEATS
CAR SEAT ACCESSORIES
STROLLERS
a few options here…
full size: Baby Jogger City Select
lightweight: Baby Jogger City Mini GT
OR if you are jogger/hiker/like all-terrain functions: BOB Revolution SE can be the only one, serve as your full size and be paired with the lighter-weight City
Mini GT for on the go
Optional: infant car seat stroller adapter
STROLLER ACCESSORIES
OTHER GEAR
Bassinet:
1 – 2 extra sheets for co-sleeper
Pack N Play: 4MOMS BREEZE
14pt;">Pack N Play Accessories: 2 – 3 sheets EACH for both top bassinet and bottom Playard
Baby Carrier: BabyBjorn
Wrap Carrier: Acrabros
Shopping cart cover: ITZY RITZY
FEEDING
HIGH CHAIR: Graco Baby
4 – 6 (8 oz) Bottles*: Joovy Boob, Dr. Brown's, Comotomo's
4 – 6 (4 oz) Bottles*: Joovy Boob, Dr. Brown's, Comotomo's
1 – 2 Bottle Cleaning Brushes: Dr. Brown's, Avent
Various sized nipples to grow with baby
Drying rack: Boon Grass with various attachments/stems
Optional: Dishwasher basket, drying rack, bottle sterilizer, sterilizer bags
6-10 burp cloths: aden+anais burpy bibs, Munchkin, Gerber
4 -6 bibs: Tommee Tippee Closer to Nature, aden + anais, Baby Bjorn
Feeding/Nursing Pillow: MY BREST FRIEND or BOPPY NURSING PILLOW (consider 2+ pillows to have in different parts of the house)
1-2 extra Feeding/Nursing Pillow Covers
BREASTFEEDING (IF APPLICABLE)
Breast pump: Medela – check with your insurance company as the Affordable Care Act is requiring most, if not all insurance companies to cover the cost of breast pumps.
Brest pump accessories: on-the-go tote, cooler, sterilizing bags
At least one extra set of breast pump tubes, cones, membranes and any other necessary parts.
Breast Milk Storage Bags: Medela
50 – 100 Breast pads (disposable): Medela
2-4 sets of Bamboobies reusable breast pads (it is good to have some of both on hand)
Nipple cream: Earth Mama Angel Baby Nipple butter or Lansinoh Lanolin
2 – 4 Nursing bras: Bravado Designs, THE DAIRY FAIRY
Check out our BREASTFEEDING SECTION for more information on breastfeeding.
DIAPERS & ACCESSORIES
Assume 10-12 per day, the average baby wears newborn diapers for 3-5 weeks (up to 10lbs)
100 – 150 newborn diapers: Pampers Swaddlers Sensitive, The Honest Company
4 – 6 boxes of Baby Wipes: Pampers Sensitive
Diaper Rash Cream: Aquaphor, Desitin, Earth Mama Angel Baby Butt butter
Diaper Bag accessories: travel size wipes, changing pad, scented diaper sacks, hand sanitizer, antibacterial wipes, pacifier wipes, etc
SKIP HOP PRONTO CHANGING STATION(for diaper bag)
If you are considering cloth diapering, check out our What to Pack in Your Hospital Bag
ACCESSORIES
Changing table pad: +, Colgate, Naturepedic (organic option)
1-2 extra Changing table covers: aden + anais, Dwell Studio, Pottery Barn Kids
DIAPER DISPOSAL: Diaper Genie
2-3 Diaper Genie Refills
NURSERY
We've only included the necessities and left the endless décor possibilities off the registry
Furniture:
BEDDING
3-4 fitted crib sheets
3-4 waterproof crib pads: Sealy Stain Protection Crib Mattress Pad, Naturepedic (organic option)
1-2 Mid-weight blankets/stroller blankets: Pottery Barn Chamois Stroller Blanket, Little Giraffe, Mamas & Papas
you'll likely get blankets as off-the-registry gifts so limit the number you actually register for.
6-8 receiving/swaddling blankets: aden + anais Muslin Swaddle Wrap, the aden + anais Bamboo swaddle blankets are a luxe version of the ever-favorite muslin
SLEEPING
2-4 Wearable blankets: Miracle Blankets and/or Halo Sleepsacks
Register for a couple of different types/sizes and see which your baby prefers
BABY SOOTHERS & ENTERTAINMENT
LAYETTE
Brands suggestions: Carter's, Gerber and Kissy Kissy
4 – 6 short sleeve onesies (NB, o-3, 3-6 mos)
4 – 6 long sleeve onesies (NB, o-3, 3-6 mos)
3 – 5 pull on pants
3 – 5 shirts – we love the kimino style
5 – 8 one piece sleepers
4 – 6 pairs of socks
2 – 3 pairs of mittens
2 – 3 hats
Outwear depending on the season
*We suggest the above, unless otherwise noted in newborn and 0 – 3 months. As the baby grows purchase what you use and what your baby likes. The easier to get on and off, the easier it is for you!
TOYS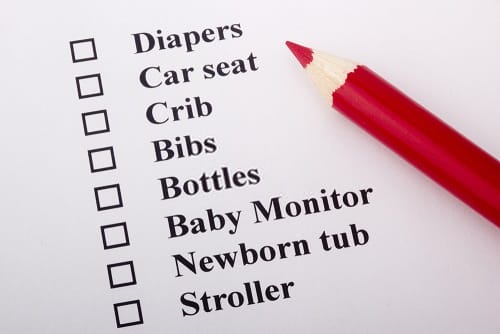 1-2 Car Seat toys: Infantino Tag Along Chimes
Pottery Barn Kids – Hug and Hide Owl
Babies R Us Fun Keys
Bright Starts™ 3-Piece Chill and Teethe Teether Tubes
Especially for Baby Floating Friends Teether
anything Skip Hop
Books
Love You Forever by Robert Munsch
On the Night You Were Born by Nancy Tillman
The Very Hungry Caterpillar by Eric Carle
Stelluna by Janelle Cannon
The Giving Tree by Shel Silverstein
Where the Wild Things Are by Maurice Sendak
BATHING
BATH TUB: Boon Naked
2 Hooded towels: we love the Pottery Barn "Critters? collection or aden + anais bath collection, Circo from Target
4-6 washcloths or a sponge (like this ONE)
Baby shampoo and/or body wash: Mustela, aden + anais mum + bub, California
Baby Super Sensitive
Temperature gauge: included in the tub!
Bath toys suggestions:
Frog Pod Bath Storage Basket by Boon
Alex Rub a Dub ABC 123 in the Tub
Boon toys
Munchkin bath toys
SAFETY
HEALTH & OTHER ESSENTIALS
First Aid Kit
NEW PARENTS SURVIVAL KIT* (Contains things like nasal decongestant, gas relieving drops, teething pain reliever, etc)
BABY HEALTHCARE AND GROOMING KIT* (Contains necessities like nasal aspirator, nail clippers, comb and brush, thermometer, emery boards, etc)
* we've linked to some that are great options and most baby registry guide stores carry something similar
Baby Registry Guide : Best Brand for Baby produtcs
BABY JOGGER CITY SELECT/ SAMSUNG SAFEVIEW / CYBEX ATON / BOON NAKED / BABY BJORN CRADLE / 4MOMS MAMAROO / ERGOBABY ORIGINAL BABY CARRIER / ADEN + ANAIS SWADDLE BLANKETS / STOKKE TRIPP TRAPP / 4MOMS BREEZE / SKIP HOP PRONTO CHANGING STATION.
Baby Registry Checklist Printable PDF