What are the best Baby monitors in 2022? , The world of baby monitors is far from straightforward. Audio monitors may be analogue, digital and now DECT is the new thing in town, there is a whole range of video baby monitors available too, as well as ones that come with sensor mats.
Baby Monitor Your Baby?
One of the things that you're probably trying to figure out is which brands are the best.
Some of the best brands come from companies such as Sony, Philips Avent, Summer Infant, Angelcare, and Graco. It's recommended that you look at various best baby monitor reviews to see which brand and model would suit you best.
A baby monitor, also known as a baby alarm is essentially an audio or audio-visual system that can be used to remotely listen to sounds of your baby or watch your child with the help of a video unit.
This helps you to be able to observe your baby even at a time when you are not present in the same room physically.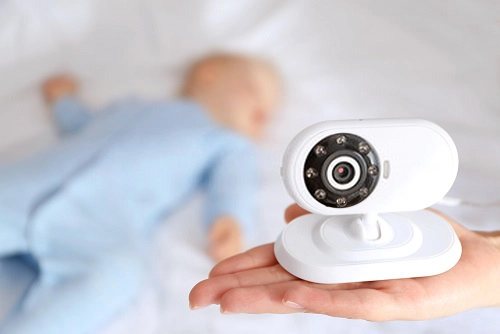 Parents always want to feel certain and be comforted that their bundle of joy is free from harm and resting peacefully
A baby monitor is the most ideal way to keep tabs on your baby from another part of your home. Baby monitors have come a long way in the past ten years.
The most exceptional baby monitors can monitor everything from the heart rate, breathing, movement, temperature and many more.
A baby monitor
Not sure where to start to find out what is the best baby monitor is for your specific needs and your family?
A key consideration is whether you will be using it outside, perhaps in the yard or the garden, in which case a decent long-range unit will be preferred.
Do you plan to travel abroad with your monitor? If so, size and weight will matter. Do you want to see as well as hear your child? How important are extra features such as night light, lullabies or a temperature sensor to you?
There are various types of baby monitors that exist to help answer the question, "what is the best baby monitor? for you. Below are categories of the different types of baby monitors that you can add to your baby registry checklist.
What is the Best Baby Monitor for You?
Different Types of Baby Monitors: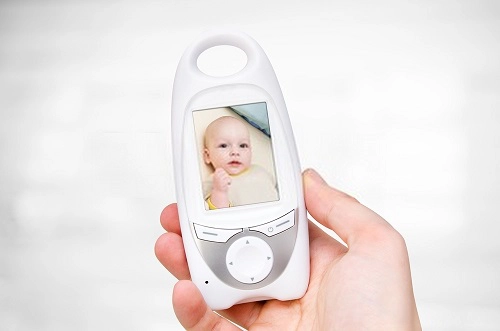 This, innovative masterpiece comes with a camera and a visual display unit. Apart from listening to the baby's sounds, you can also watch them, thus it gives an additional layer of security as well as safety.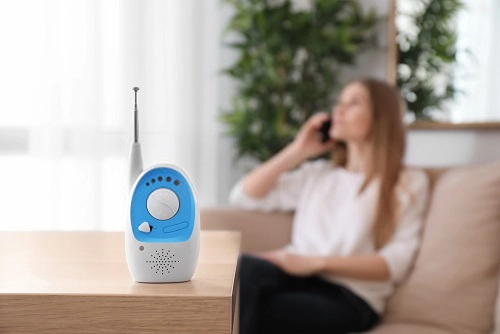 An audio monitor helps you listen to the sounds of your baby so that you can tell when he/she is awake. It comes with a parent unit which allows you to listen to every noise inside the baby's room.
If you are one of these dedicated parents, a great option for you is the top-ranked Angelcare Baby Audio Monitor.
WiFi Video Baby Monitor: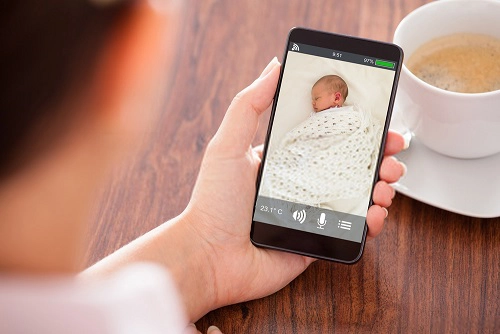 This type of baby monitor can be an audio or video monitor which supports direct transmission over a WiFi connection.
It uses no radio frequency and connects with your home internet network. The is an excellent choice for this type of baby monitor.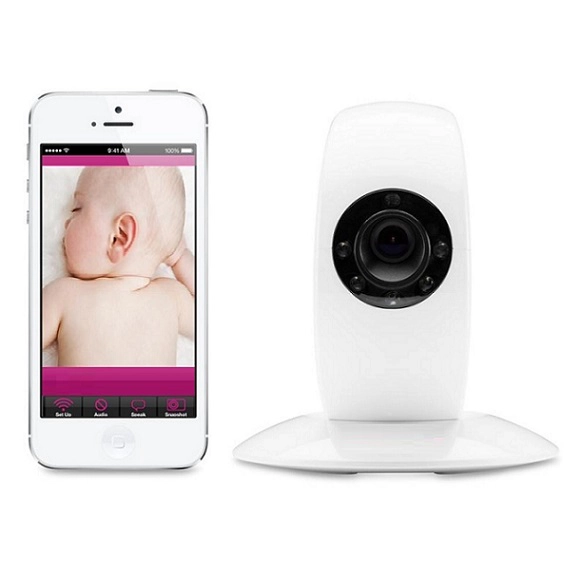 Since the inception of smartphones, they have become an integral part of our daily lives.
Some parents are more proficient with the use of smartphones and want everything on their phones. If you are looking for an iPhone-compatible baby monitor, the wins the race.
We've tested a variety of models to cover all the bases but our main focus will be on Video Baby Monitors and you can rest assured that all of the ones on the list we've chosen are highly recommended and reliable.
Here is our list of the top-rated baby monitors that have video capabilities.
7 Top Rated Video Monitors: Are they worth the Uproars?
Simply looking for the best choices this year? What is the Best Baby Monitor? Here are the best selections available.
What's common about all these baby monitors is that each has at least a 4 out of 5 star rating at Amazon. Quite a success there!
What is the best baby monitor to showcase the top choices according to consumers just like you, below.
5 Inch Motorola Digital Video Monitor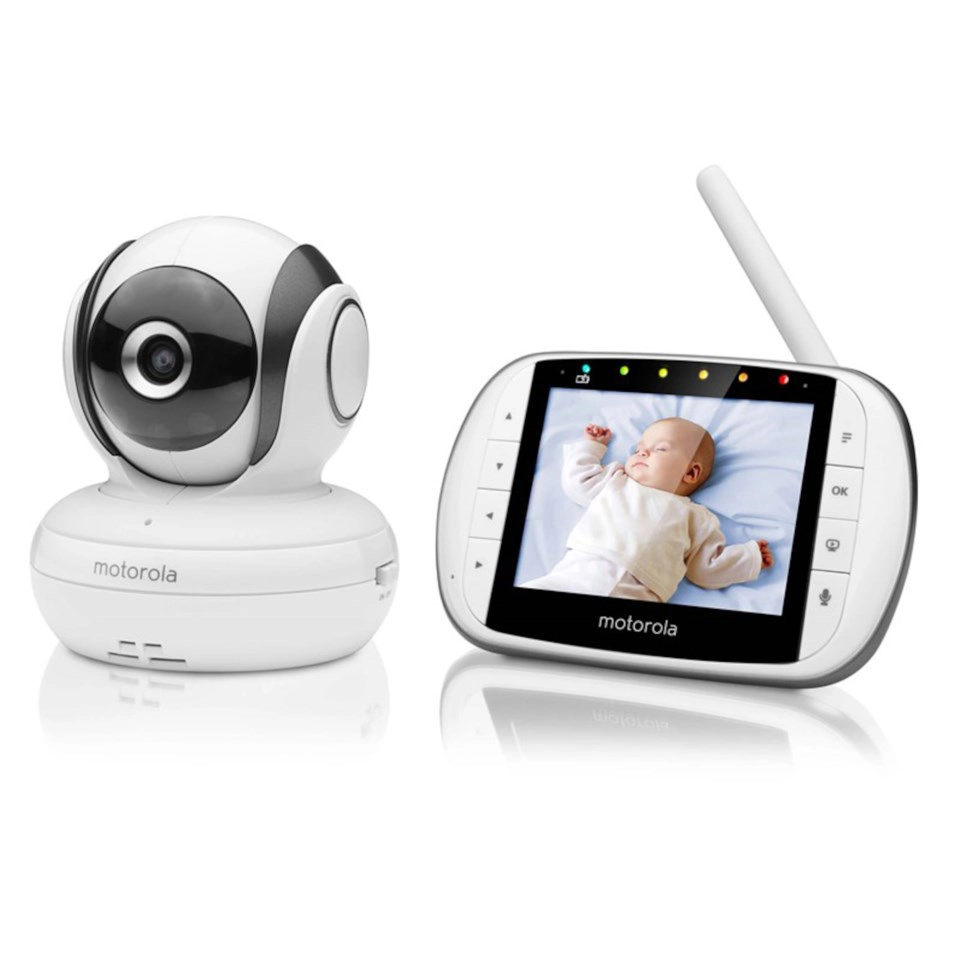 The , with an amazing 3.5 inch LCD screen, won the race hands down and earned our Editor's Choice award.
This video monitor came in better than any other video product with impressive video clarity and perfect sound.
Equipped with lots of features ranging from temperature, talk to baby and preference settings, it is noticeably easier to use.
The ability to control the viewing angle of the camera from the parent unit together with the large, clear 3.5-inch LCD screen, gives it a pleasing unique look.
This is why we consider it the best video monitor and a must-have for your baby!
Infant Optics DXR 8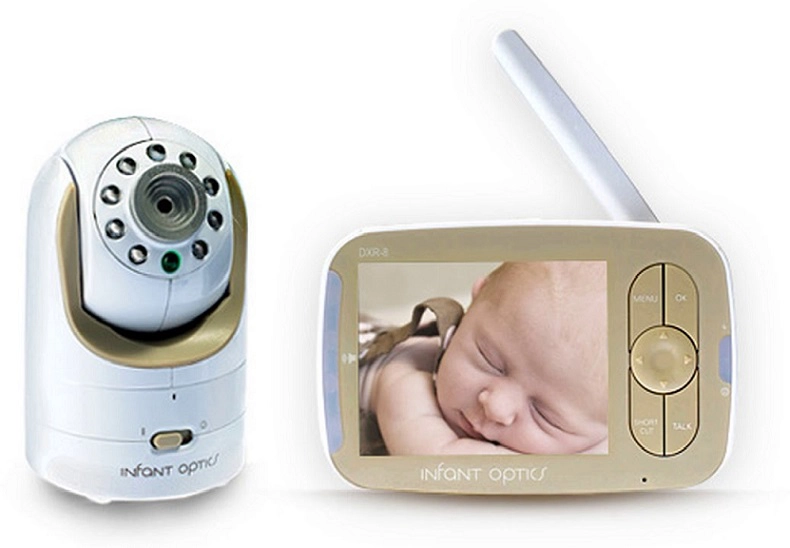 The is the world's first-ever monitor, which is well-known. It also comes with interchangeable lens technology which allows users use normal lens, optical zoom lens as well as a wide-angle lens.
Basically, it is an investment that grows with your family. Fitted with a pan, tilt as well as zoom technology, sound-activated LED display, talk back functions and a compact 3.5 display, this video monitor lets you keep a close eye on your baby making sure nothing escapes your notice even when away.
Samsung SEW 3037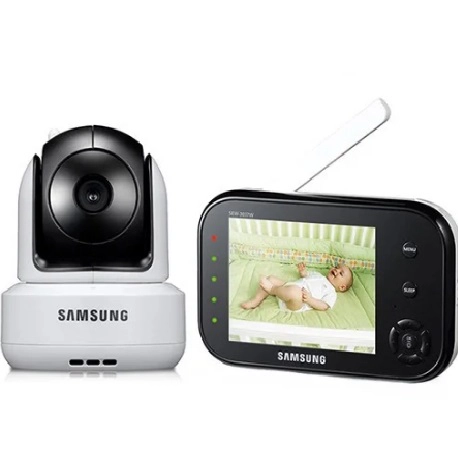 With a crystal clear LCD display as well as a built-in microphone, the Samsung SEW 3037W is a device to go by. It has exactly what you need to ensure that your baby can communicate with you from a remote location.
Fitted with a pan, tilt and zoom camera technology together with a two-way talk, this device offers the closest relationship between mother and baby.
The two-way talk feature will allow you to talk to your baby just in case he/she is awake and yelling or crying loudly, giving them the necessary amount of comfort which will help them calm down a little more quickly.
Motorola MBP33 Baby Monitor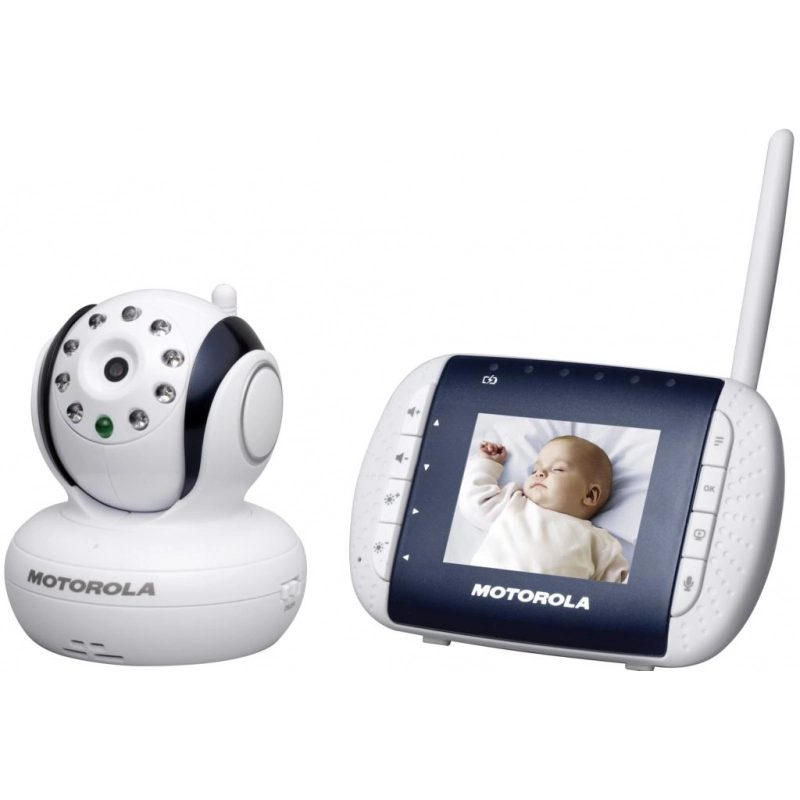 The is greatly highlighted thanks to its excellent operating system. On the 2.8-inch LCDs display, you will see data being transmitted through the 2.4 GHz technology.
It comes with a range of up to 200 meters, making it an excellent choice for a long-range baby monitor, and the data is secured and kept far away from prying eyes.
This video baby monitor features two-way communication, which enables parents to speak with their children, soothing them to sleep.
Hello Baby Video Baby Monitor with Camera and Audio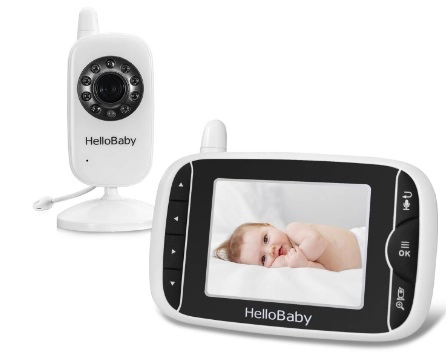 Being a parent requires you to take the role of a superhero with no credit whatsoever. You are on call all day and night to make sure your child has whatever it needs.
This is where the Hello baby, Baby Monitor comes to play thanks to the modern technology used in the baby monitors which makes you available to your child at any time.
With features such as PEEP mode, night light as well as five controlled lullabies, this device will allow you to watch your child even though you are not in the same room all the while the lullabies are calming your child to sleep.
What's more you can also enjoy a two-way communication with your beloved child in the house within 500ft of the camera. Quite a masterpiece, don't you think?
VAVA 720P Baby Monitor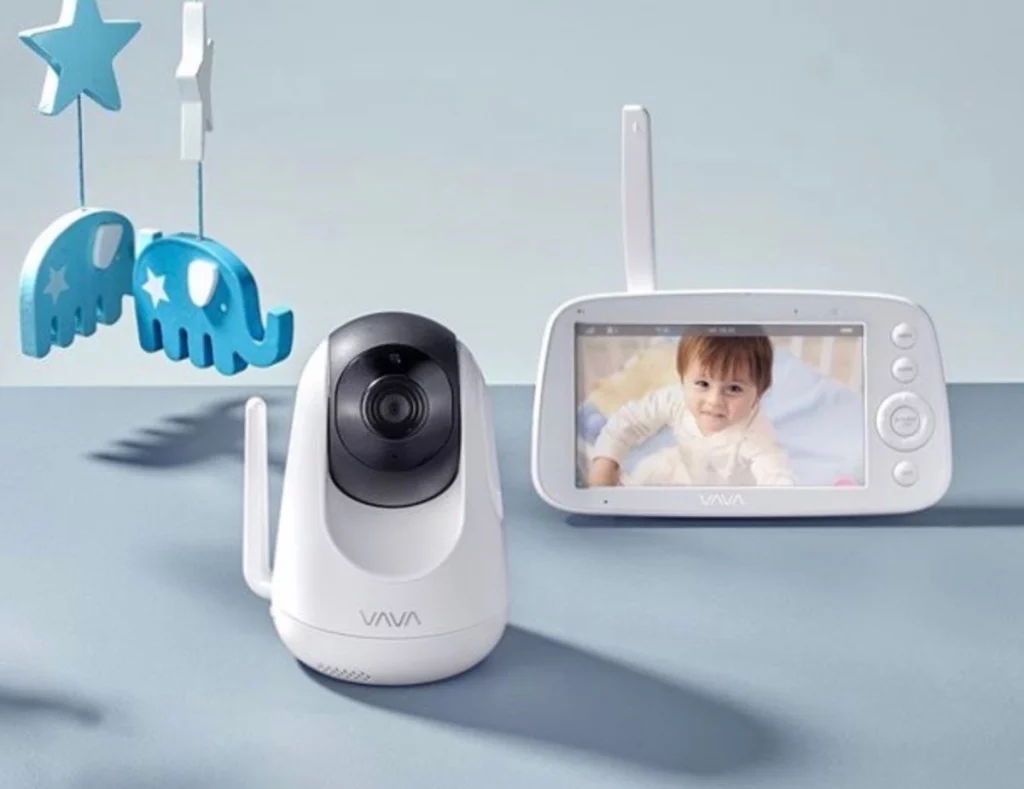 Relax! Now you can watch all the action in baby's room with the new VAVA 720P Live Video monitor.
The two-way audio allows you to talk back to others and you can connect up to four cameras in a room or various rooms.
The wireless camera can likewise tilt, and pan with a single touch of a button from your Android phone, tablet or computer.
It's that easy! You can even monitor your child and home from anywhere in the world through Skype.
7. Moonybaby Trust 30-2 Video Baby Monitor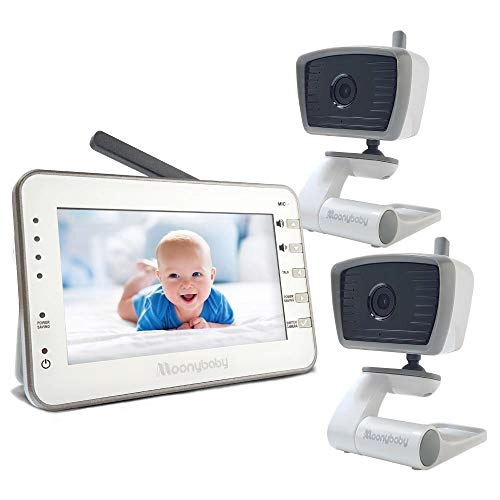 Moonybaby Trust is gaining popularity fast in the market. Its 4.3-inch screen, in particular, sets it apart from its competitors.
Features such as remote controlled pan, tilt, and zoom camera, two-way intercom system, invisible LEDs for night vision and the ability to record video as well as snap photos, make this device a masterpiece.
The video camera lets you keep a close tab on your baby while you are busy with house chores or even when the baby is sleeping in the nursery at night.
Features: What should a good Baby Video Monitor have?
Remote-controlled pan, tilt, and zoom camera:
This helps in the rotation of the monitor to enable you to view the surroundings of the area where your child sleeps.
This is of great importance because one will be in a position to spot any danger that might lurk around your child.
What's more, the monitor has a remote-controlled built-in light that helps to soothe your child to sleep meaning you don't have to go through all the trouble to stay up late and soothe the baby to sleep.
Communication between the parent and the baby is of great importance.
It helps the parent know the status of their baby from afar. In this regard, baby video monitors are designed in such a way that you can communicate to your baby conveniently.
The 2-way communication feature which comprises of high quality speakers, as well as microphones, allows you talk to your baby when necessary. Quite convenient!
Touch Screen Monitor:
Some video baby monitors come with touch screen displays. These monitors are large enough to enable you view images of your beautiful baby in the best way.
What's remarkable is that the screen has a high sensitivity to touch so that no difficulty is experienced while operating the video system.
In case you are looking for a good quality baby monitor with the right capacity to provide you an unsurpassed superiority of images, then the Video Baby monitors have the best video clarity features thanks to their powerful large LEDs displays.
These systems are designed to provide high-definition videos which other monitors cannot provide. With zooming features in place, you will be in a position to have clear shots of your baby.
The digital signal fitted in all the video monitors is able to send signals that are not easily interfered with up to a distance of 900 feet or 274 meters.
This ensures that you will be able to pick up a signal a long distance away from your child. With the help of LEDs on the monitors it's quite easy for the device to indicate up to five levels of sound.
How to select the best Baby Monitor 2020! Which video monitor works best for your baby?
So where do we begin? A video baby monitor seems like an excellent idea but what do you actually need? Here are a few guidelines on how to decide which video works best for you
The range of the monitor plays a huge factor in decision-making. In case you have a large house and want to monitor your child from a distance or from out in your yard, then it's time you hunt for a monitor capable of performing from quite a distance. Long-range baby monitors with extended-distance capabilities becomes a necessity.
So many different styles and monitoring devices are available in the market today. Some prefer the handheld version because of their small size and portability when moving around while others prefer a larger more visible screen. Therefore the screen size and type is an important elements to choosing the best Video Baby Monitor for your family needs.
An important consideration for you really technical types, you also want to ensure that your video, as well as audio streams, are well encrypted and safe from any intrusion. Therefore, security is key and is now available thanks to improved technology.
Night vision:
Another important factor loved by many is the ability to view whatever is happening at all times, even in low-light situations. Definitely, at night, this becomes a bit more difficult without some sort of night vision device.
Most of the monitors available have built-in night vision, but obviously, some are much better than others.
If you have any experience with battery-powered electronics, which nowadays we all have, you will agree with me that one of the most frustrating aspects is having to recharge a device after extended use.
If you are anything like me, you are constantly forgetting about it, and then when you need to use your device, it's simply isn't ready. Having a good battery strength monitor with a nice long-life battery can really help!
One of the most exciting features that come with some of the top-rated baby monitors is the ability to display what temperature it is in the baby's room.
If your toddler is fussy during the night, a major reason may be that he/she is too cold or hot.
With baby monitors that include a temperature monitor, you will be in a position to know instantly and can turn your heat up or down as needed.
Pros
The Top Rated and the best Baby Monitors that have video also have the following benefits:
Mobility: Picture yourself being in a position to freely move around your house while doing all the essential chores without necessarily losing the capability to watch over the baby. You can go from one room to another and you still won't lose track of what is really happening to your baby.
Simplicity of setting it up: You don't have to fiddle with wires in order to set your baby monitoring system up. In most cases it will take just a few minutes, all you have to do is setup the device anywhere for the baby and in whatever place you want in the room, without necessarily having to worry if the length of the wire is long enough to get to the other rooms where the receiver is setup
Easily transferable: It is easier to relocate the device from one place to another. For instance, in case you desire to leave the baby in the living room for a little while, you can get the device right from the baby's room and move it directly to the living room with no hustle of shifting the wires.
Maximum privacy: This technology allows you to have privacy in your home. It seeks through the most secure channels to get its connection which as a result makes you feel like you are always by your baby's side. That way you can move freely and sleep peacefully knowing that you can still hear your child.

Cons
You will want to make sure that you are aware of the following possible limitations:
Interference: The major disadvantage about video baby monitors is interference. With video monitors, device interference comes in form of fuzzy or static reception. These interferences are caused by other devices in range of the house such as wireless phones or possibly your internet router. 
Range: Another disadvantage of some video baby monitors is the range where the device may not be able to receive or send transmissions due to the distance limitations.
All in all, although a video baby monitor has a few disadvantages, without a doubt the benefits outweigh the disadvantages.
A Video Baby Monitor wins the battle in answering the burning question what is the best baby monitor? You only need to determine, what is the best baby monitor for your family and your specific needs.

Conclusion
What is the best Baby Monitor? Well, well, there you have it. Whatever baby video monitor you choose to purchase, it must suit your individual needs and your family's budget.
But on a broader note, this answers the question, what is the best baby monitor?" For instance, if you live in a small house you may need a video baby monitor only when you are in the kitchen. In this case, a video baby monitor is sufficient, right? The choice is yours.