Baby Trend infant car seat may be the safest baby car seat, As a responsible parent, you know that selecting a high-quality car seat is an important decision. Using an adequate child restraint system reduces the death risk in both infants and children by 28 percent.
In other words, a well-made car seat could save your little one's life in the case of a crash. That highlights the importance of making the right choice. That is why I want to introduce to you a top product that is created for infants.
I will present to you the most important features of the product, its pros and cons, what other parents think about it, and so on. So, keep on reading!
The Product : Baby Trend infant car seat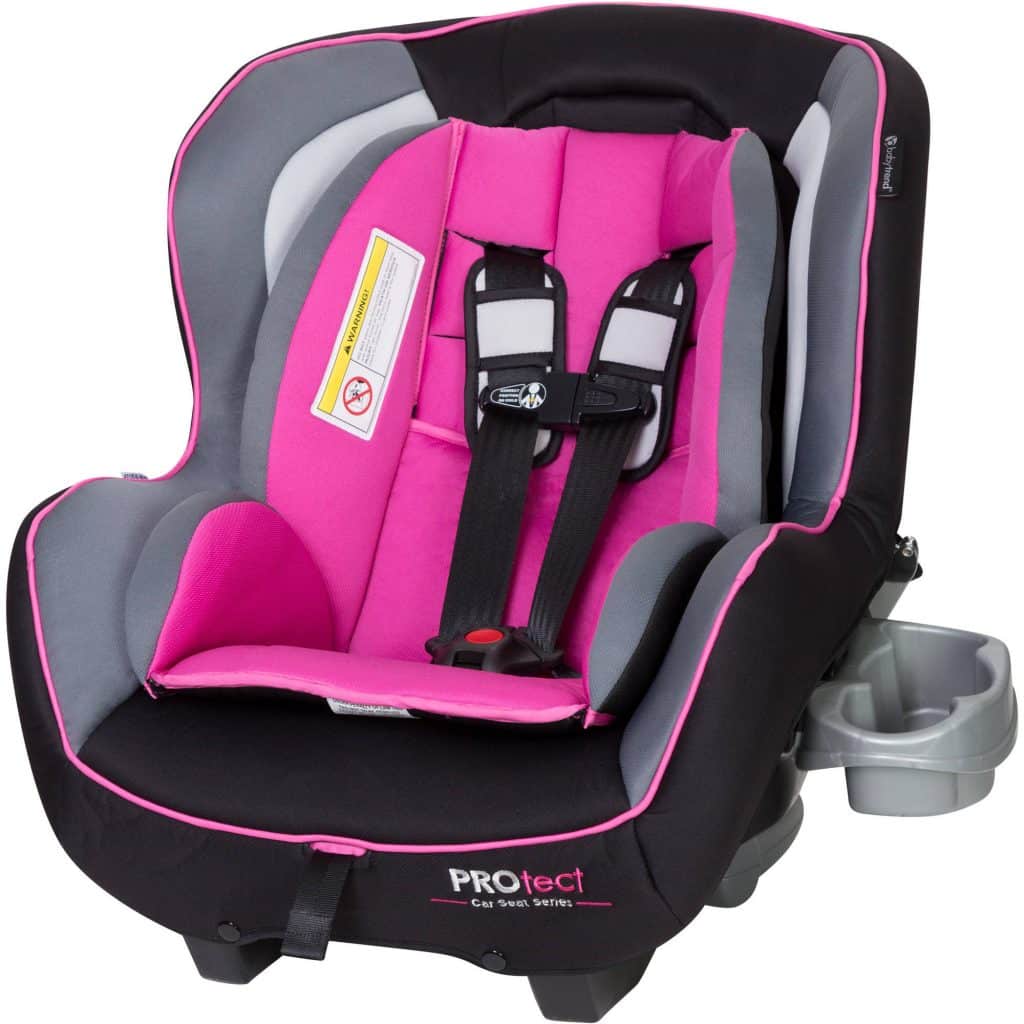 The Baby Trend infant car seat style="font-weight: 400;"> has an excellent, practical design and a set of promising features. Most importantly, it is on the affordable side, being a convenient option, especially if you're on a budget. Here's what you should know about the item:
It features a 5-point safety harness system, push button release and one-hand harness adjustment
Practical carrying handle that facilitates easy transportation
4-position adjustable base, featuring a level indicator. This way, you can ensure that you install the device correctly for optimal safety
EPS energy-absorbing foam that facilitates unmatched head protection
Rear-facing installation, which is said to be the safest
Weight recommendation: 5 lbs. – 30 lbs.
Height-adjustable seat back without harness rethreading
Slim design enables parents to position three identical car seats in a row in most vehicles
​Removable bunting
Excellent safety ratings
Sleek design
Baby Trend infant car seat review after testing
To begin with, one of the many things to love about this car seat is the base. It adjusts to four distinct levels.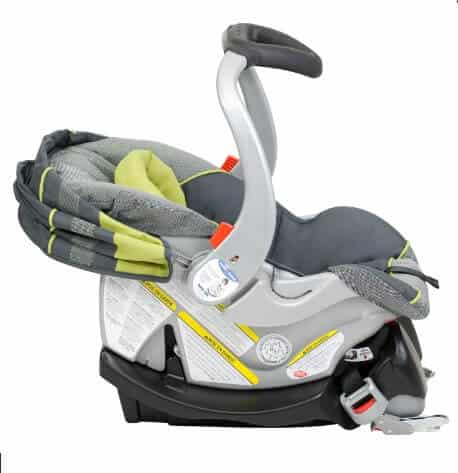 What you have to do is simply click the base up or down. Doing that is easy; you could even do it with one hand if you're a handy person. Apart from that, the level indicator positioned on the side shows when you have reached the correct angle for your child's size and weight.
Secondly, in comparison with other car seats I've come across, this one is surprisingly smaller, in a good way, of course. In other words, you could have three car seats in a single car without much effort.
Moving on to releasing the car seat from its base – this is simple, as well. Instead of the conventional release latch system at the back of the baby's head, this one features a release system near the baby's feet. This is a great characteristic for small cars, but it's not so convenient for bigger vehicles.
A major beneficial aspect to this car seat is that it accommodates babies as tiny as 5 pounds up to children weighing 30 pounds. What about the height limit? It is 30 inches. If you have big babies, this feature will make you happy.
Baby Trend infant car seat
However, you should bear in mind that in the case of tiny babies, there isn't additional padding around the head that would support a newborn's head. That means you have to purchase extra support.
These are all great features, but what about the safety element? Is this car seat safe? Evidently, yes. When it comes to safety, the Baby Trend Infant car seat won't let you down.
The padding of the car seat is known as EPS foam. That is surprisingly lightweight while being force-absorbent. What is more, it facilitates optimal protection in the event of a car crash. Plus, Baby Trend includes extra padding for ensuring excellent side impact protection, as well.
What Other Parents Say about Baby Trend Car Seat
After reading plenty of reviews for this product, I concluded that most parents were happy with their purchase.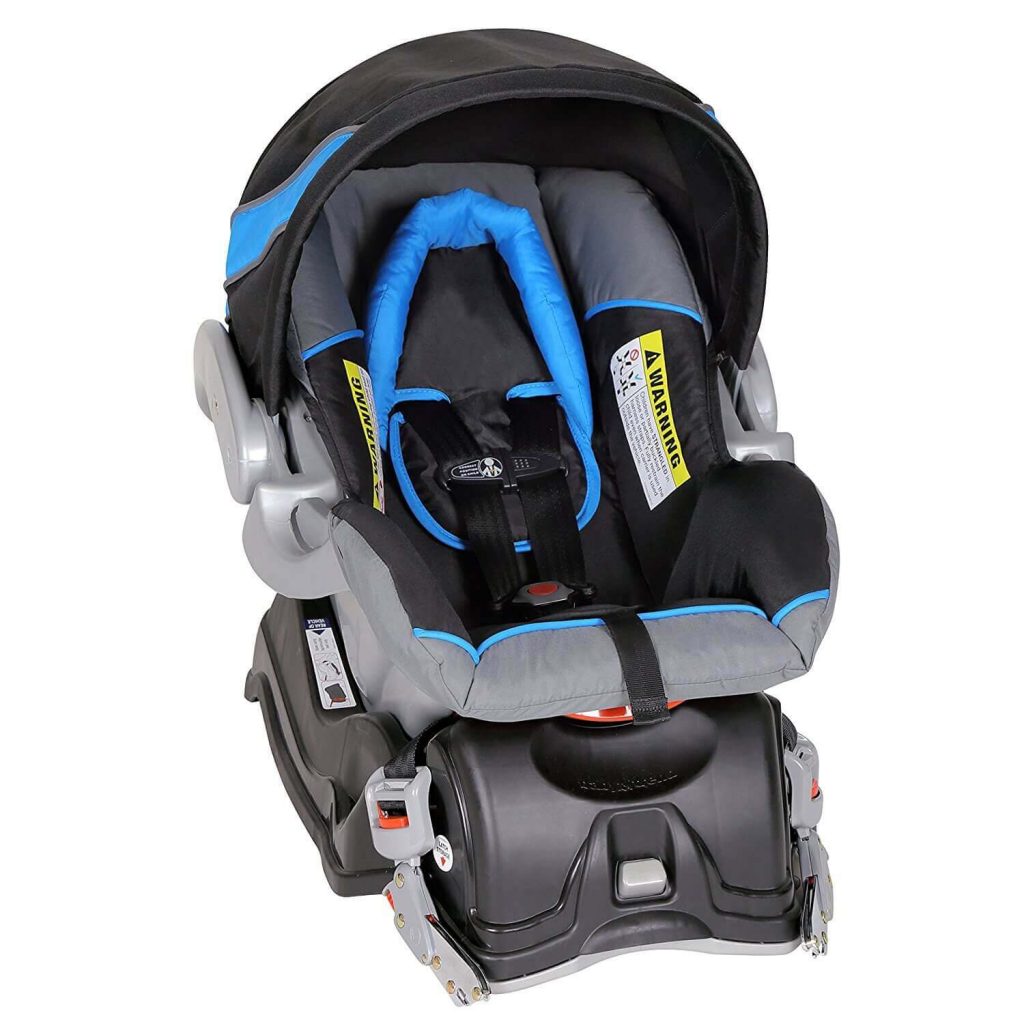 The intelligent design is acknowledged as a significant pro. What is more, parents are pleased that they can adjust the car seat as the baby grows.
One particular customer has noted that the release button could be difficult to reach as the car seat is facing backward. As for the buttons designated for moving the handles, they tend to be on the stiff side.
The durability element is also an advantage. One mother said that she used the car seat for three of her children. On the whole, parents agree that the car seat does its job and has a great set of features while being affordable.
What We Like
Now it's time to say what I like most about this product. Firstly, it meets the primary purpose for which it is created: it maximizes a child's safety.
Secondly, the adjustable base is another element that ensures your little one's safety. It is designed for parents whose cars are smaller, occupying a minimal amount of space.
The flexibility of the tether straps could also be seen as a major benefit.
What We Don't Like
At times, getting the base tightly latched could be quite difficult. Secondly, the positioning of the release hatch is odd.
I would have liked if the car seat had been equipped with infant head padding, as well.
Another potential drawback could be that the harness is difficult to buckle. Also, moving the handle forward and backward takes a lot of muscle.
Baby Trend infant car seat Buying Guide
I have already pointed out that this product is an affordable car seat. You get a high-quality, durable, and safe car seat you can rely on.
Source: babytrend.com
On Amazon, for instance. Plus, from my experience, Amazon has a range of attractive offers now and then.
What about the warranty? According to the information presented by Baby Trend, each product is accompanied by a 180-day warranty after the day of purchase. If the repair is applicable, Baby Trend will pay for the shipping costs, as well.
Final Thoughts Baby Trend baby Car Seat
Overall, the Baby Trend infant car seat is a decent purchase. It has excellent safety ratings and a sleek design. The adjustable base combined with the flex straps maximizes its safety, while the boot and the handle are excellent extras.
The negative sides, such as the hard-to-buckle harness and the stiff handle movement can be dealt with, considering the favorable price. All things considered, it is a well-made product that serves its purpose quite well.